Testimonials
I just opened mine today and not only do they smell amazing but wow!!! Those flowers on top are so beautiful!!! I can't wait to use this soap in the shower as I'm sure my whole bathroom will smell amazing. Great seller and will be back for other soaps also.Thank you very much.

Veronica Tucker
This soap is as beautiful as it is fragrant. I love the 🐝
and flowers, your artistic talents shine thru! The fragrance is amazing and
deep. I will definitely order again and look forward to the Holiday soaps over
the next few months.♥️

Pam R.
This soap is so amazing! The smell isn't too overwhelming and is just perfect! I love this soap. Thank you.

Veronica T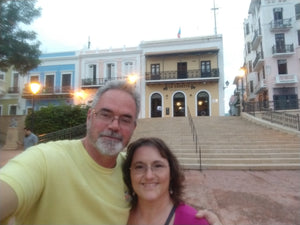 Meet the Maker, Michelle Lindberg

Michelle
is a Legal Technology Consultant that spends all her evenings and weekends making soap for you! She loves nothing more than to spend time with her husband, Jim. So much so that they combined their workshops together in one building so that she can make soap while Jim works on anything with an engine! (although he clearly got the better end of the deal on space!)  She loves to cook, garden, and Travel. Most of all, Michelle loves to create!  So, when she found soap making, it was a perfect match.  She loves to create mini works of art in her soap with beautiful designs and wonderful scents for everyone to enjoy. 
Get 10% off your first order
Promotions, new products and sales. direct to your inbox.